Élodie Bonard: French / German / English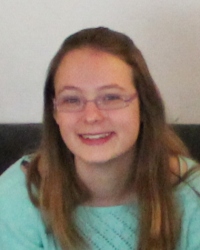 Ever since she was a child, literature and languages were Élodie's favourite subjects at school. This is why Élodie Bonard decided for a Baccalauréat in Literature during which she learnt German, English and Russian.
Then, she opted to study several different subjects in order to prepare the entrance examination to the ENS, before she chose to come to translation. She still takes a great interest in discovering new things. This is a great opportunity that the job of a translator can offer to her.
During her studies, Élodie has gradually specialized in legal, economic and technical translation. As practice exercises, she among others translated into French a lot of contracts, laws, bills or articles written in English or German.
Nevertheless, she remains interested in several different translation fields, especially the literary translation thanks to her literary culture. In addition, she is currently studying Russian language and literature at the university and so hopes to be able to add an uncommon language to her combination of languages.
Élodie Bonard joined the translator team of International Translators after her traineeship at the translation department of City Tours Vienna.
Élodie Bonard's professional qualifications
Baccalauréat in Literature: honourable mention (Boulogne-sur-Mer - France)
Classe préparatoire littéraire: intensive three-year university foundation course preparing for the competitive entrance examinations to the ENS / 'Grandes Ecoles' ( = Higher Education, highly-selective institutions, equivalent to a bachelor's degree in German) (Amiens - France)
Master's degree in International Business: specialized in business translation with the University of Cergy-Pontoise (Val d'Oise - France)
Élodie Bonard's combination of languages
A language (mother tongue): French
B language (working to and from): German
C language (working mostly from): English
Order a translation by Élodie Bonard
If you are interested in a translation by Élodie Bonard or any other member of our translator team, don't hesitate to send us your request to . Please take into account the information provided in our "How to order a translation" page in order to enable us to provide you with a personalized quote as quickly as possible. Of course, our translation team is also ready to answer any question you might have about our translation service personally!