Anne-Sophie Petit: French / English / German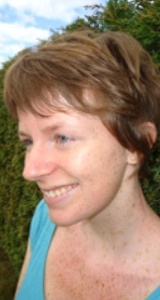 Anne-Sophie was born and grew up in Calais, France. The proximity of Great-Britain brought her to start learning English at the early age of 4. She started German in middle school. In spite of her very good results, she was not particularly interested in languages at the time and specialized in mathematics in high school. She had however always loved reading ever since she learnt how to read; she was 16 when she read her first book in a foreign language and she knew at once that she was going to become a translator - and nothing else.
After graduating from high school, Anne-Sophie Petit therefore studied literature and languages and specialized in translation as early as possible. She got to learn and master many different kinds of translation.
During her studies she had several opportunities to travel, sometimes spending months in English-speaking or German-speaking countries. She developed a strong passion for travelling, living abroad and speaking foreign languages.
Anne-Sophie Petit co-operates with the Vienna based translation office International Translators ever since her traineeship at the translation department of City Tours Vienna. During her internship, Anne-Sophie acquired high-level professional skills in website translation and website redaction, enriching her well-rounded profile with additional sought-after skills.
Anne-Sophie Petit's professional qualifications
Classe préparatoire littéraire: Intensive two-year university foundation course preparing for the competitive entrance examinations to the 'Grandes Ecoles' ( = Higher Education, highly-selective institutions) - Lycée Mariette in Boulogne-sur-Mer (France)
Bachelor degree in English: Université du Littoral Côte d'Opale (France)
1st year Master in translation: Université Lille 3 (France)
Exchange semester studying translation: Johannes-Gutenberg Universität in Germersheim (Germany)
Master degree in business translation: Université de Cergy-Pontoise (France)
Anne-Sophie Petit's combination of languages
A language (mother tongue): French
B language (working to and from): English
B language (working to and from): German
Order a translation by Anne-Sophie Petit
Should you be interested in a translation by Anne-Sophie Petit or any other of our skilled translators, you are welcome to write us anytime to . Please consider that we need some basic information about the text you want us to translate as well as about the purpose we shall translate it for. To learn more about what information is required in order to get a quick translation quote, please check out our "how to order" webpage. In case of arising questions, please don't hesitate to ask us for more information: We are awaiting your message and will gladly give you advice! And if you wish to get directly in touch with Anne-Sophie Petit, you are welcome to discover the personal website of Anne-Sophie Petit.